Porcelain Veneers for Chipped Teeth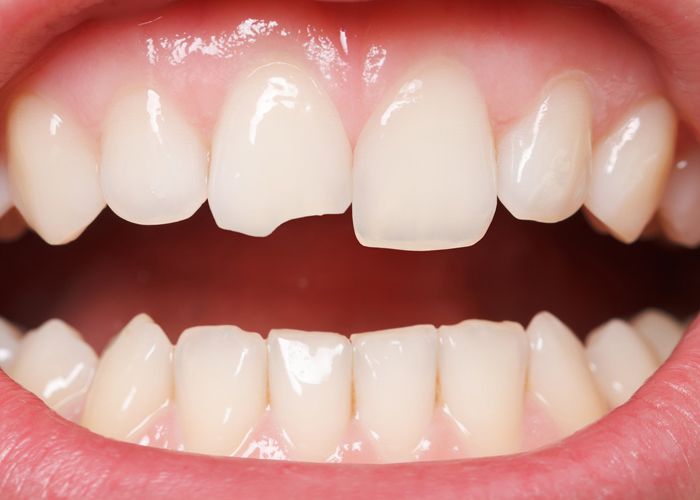 Chipping a tooth can be incredibly frustrating, especially because it generally happens when you least expect it. Did you know a chipped, cracked, or fractured tooth affects much more than the aesthetics of your smile? This type of dental injury can also weaken the overall tooth structure, making you more vulnerable to decay and further damage.
At Texas Dental Center in Richardson, TX and Plano, TX, our doctors offer a wide array of restorative and cosmetic procedures, including porcelain veneers for chipped teeth. Porcelain veneers can conceal a range of cosmetic imperfections.
An Overview of Porcelain Veneers
Crafted by a skilled dental ceramist, porcelain veneers are thin shells that are designed to adhere to the front surfaces of the teeth.
Fabricated from ceramic porcelain, veneers can be precisely color-matched to your surrounding structures for a natural-looking smile. Additionally, today's advanced dental materials reflect light similarly to natural teeth, resulting in a natural appearance.
What Causes Chipped Teeth?
Teeth can chip for a number of reasons. For example, dental trauma, such as an accident or sporting injury, often results in this type of damage. Chewing on ice, pens, pencils, or biting your nails can also lead to chips in your enamel.
At times, a weakened tooth can seem to chip with no warning whatsoever. No matter the reason, our team can determine a personalized treatment plan to meet your needs.
Porcelain Veneers vs. Dental Bonding
Often, patients can choose between two treatment options to repair a chipped tooth: dental bonding or porcelain veneers. While dental bonding is certainly effective at restoring a tooth to its natural shape and size, it is not as long lasting. While dental bonding must be performed about every six years, veneers last 10 years or more with appropriate oral hygiene.
Benefits of Choosing Porcelain Veneers to Repair Chipped Teeth
There are several advantages to choosing porcelain veneers over alternative treatment options.
For example, composite resin, the material used for dental bonding, can stain. Dark-colored foods and beverages in the standard American diet can discolor these restorations over time.
In comparison, porcelain veneers are resistant to dental staining. As aforementioned, veneers offer a long-lasting solution when compared to cosmetic bonding. Additionally, the treatment process is straightforward and comfortable. In most cases, porcelain veneers can be placed in just two office visits.
Preventing Chipped Teeth
At Texas Dental Center, we are well equipped to repair chipped teeth. But we are in favor of preventing this type of damage whenever possible.
If you play contact sports, be sure to wear a mouth guard while you are on the court or field. If you suffer from bruxism (teeth grinding), consider wearing a night guard to protect your teeth from damage. We can help you find an option that will work for you.
Contact Our Dental Practice to Learn More
Have you recently sustained a dental injury that resulted in a chipped tooth? If so, it is important to address the issue as soon as possible to protect your smile from further problems.
Our team can discuss your options with you and find a solution to meet your unique needs. To learn more or to schedule a consultation at our practice, contact us online. You can also call us in Richardson at (972) 808-6008.
Related to This