Recovery from Dental Implant Surgery: What to Expect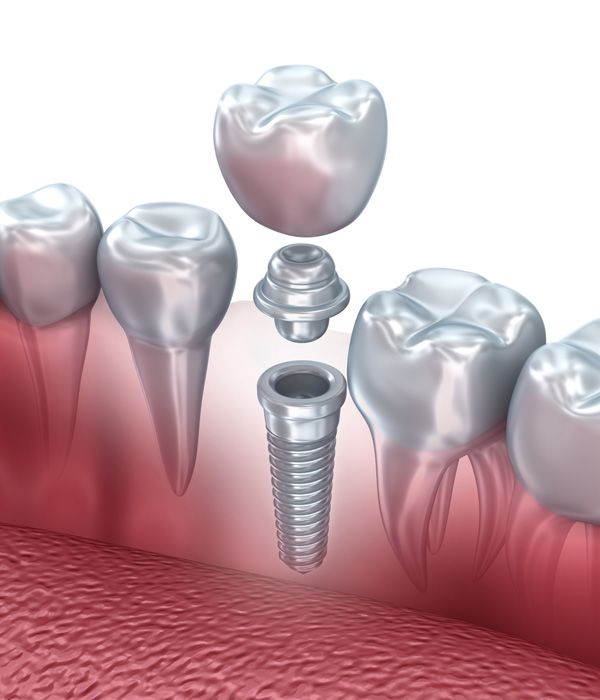 The surgical process for placing dental implants involves securing implant posts into the jawbone. Once in place, these implants will fuse with the bone over a 4-5 month process as part of the healing process (aka osseointegration). This will allow the implants to support various kinds of dental appliances, such as dental crowns, dental bridges, and dentures.
At Texas Dental Center, we offer ample information to patients in Richardson, TX and Plano, TX who want to enhance the appearance of their smile. Right now, we want to focus on the healing process that occurs after undergoing oral surgery to place dental implants. This will give you a good idea of what to expect.
Common Side Effects After Oral Surgery
After undergoing oral surgery of any kind, there are some common side effects you can expect:
Pain and Discomfort – In the first few days after oral surgery, it's not uncommon to experience soreness around the portion of the mouth/jawbone that's been operated on.

Sensitivity Around the Surgery Site – In addition to pain and discomfort, you many notice additional sensitivity to the teeth or jawbone, particularly when biting down or when extremes in temperature are present from foods.

Bruising – Some patients can have brusing in the face or alternatively, the gum tissue is often bruised or discolored follow an oral surgery. Rest assured that this is a normal and temporary bit of discoloration. Why? The body creates blood flow to the surgical area to help heal this is a part of why the gums can become red in appearance.

Swelling – Swelling around the cheeks and jawline are to be expected following an oral surgery.
These side effects of surgery should noticeably diminish after a few days.
Changing Your Diet Early On
In the first few days after oral surgery, it's important that you eat foods that require little or no chewing. This places less stress on your jawbone and teeth, and prevents pain and discomfort as well.
Your diet changes are more necessitated by the type of surgery you have. We will instruct you on the specific instructions related to your procedure. As a general rule: NO Chips, Crunchy Tacos, or Popcorn. These items can either damage the surgical site or possibly create an infection.
Avoid foods that are hard, crunching, result in crumbs, or that are hot or cold in temperature. You can reincorporate solid foods as advised by your oral surgeon or dentist.
Proper Oral Hygiene
Patients are expected to continue brushing their teeth as normal in order to avoid tooth decay and gum disease. If you have sutures avoid brushing in the surgical area for 3 days. Extra care should be taken around the portion of the mouth that has been operated upon as not to disturb the surgical site.
Patients will often be given medicated rinses to help keep their mouth clean and deliver antiobiotics topically to the surgical site in the early days of recovery. Be sure to use this rinse as directed. In addition, patients will be asked to rinse their mouth with warm salt water a few times a day to keep the mouth clean and to kill germs.
Activities to Avoid as You Recover
In the first days of recovery, avoid strenuous physical activities, such as exercise. Heavy lifting or cardio can lead to bleeding from the incision sites.
Use of a drinking straw is strictly prohibited as the suction from the use of a straw can cause a dry socket. After a few weeks, use of a drinking straw can resumed on your surgeon's orders.
Throughout recovery, both smoking and alcohol consumption must be avoided. Both activities increase the risk of infection.
How Long Will the Healing Process Take?
Overall, healing after dental implant surgery can take a few months since the implants need to fuse with the bone structure of the mouth. During your follow-up care visits, you will learn how well the recovery process is going and how much longer the treatment will take.
Learn More About Implant Dentistry
For more information about dental implants and how they can help you smile with renewed confidence, we encourage you to contact our advanced cosmetic and restorative dentistry center today. You can call the Richardson, TX office at 972 808 6008. The team at Texas Dental Center is here to help you experience improved dental health.
Related to This